Pullman Regional Hospital continues to be committed to being transparent as a hospital in providing information to patients and families, including pricing and charges. As such, the Pullman Regional Hospital Board of Commissioners adopted the following policy on transparency in 2008.
All information about Pullman Regional Hospital shall fully and honestly reflect its policies and practices. All financial and program reports shall be complete and accurate in all material aspects. All information reported will be in the aggregate and specific individual, personal information about patients, personnel, or providers will not be disclosed. All data reported will be accurate, comparable, and allow for interpretation by recipients.
Celebrating a Culture of Safety
In 2016 Pullman Regional Hospital employees and medical staff participated in our fourth Healthcare Survey on Patient Safety (HSOPS) to assess the level of patient safety in our organizational culture. The survey was facilitated by the University of Nebraska and was funded by the Rural Healthcare Quality Network. The HSOPS is a nationally recognized survey based on research and evidence on key elements required to establish a culture of safety in hospital settings.
There are four key elements broken in to 12 categories:
Flexible (teamwork) Culture
Teamwork within units
Staffing
Communication Openness
Teamwork across departments
Handoffs and transitions
Learning Culture
Hospital management support for patient safety
Manager expectations and actions promoting patient safety
Feedback and communication about errors
Organizational learning and continuous improvement
Reporting Culture
Number of events reported
Just Culture
Nonpunitive response to errors
Overall Patient Safety Grade
The overall patient safety grade is seen as very strong compared to other hospitals. Eighty percent of the respondents ranked our patient safety as either Excellent or Very Good.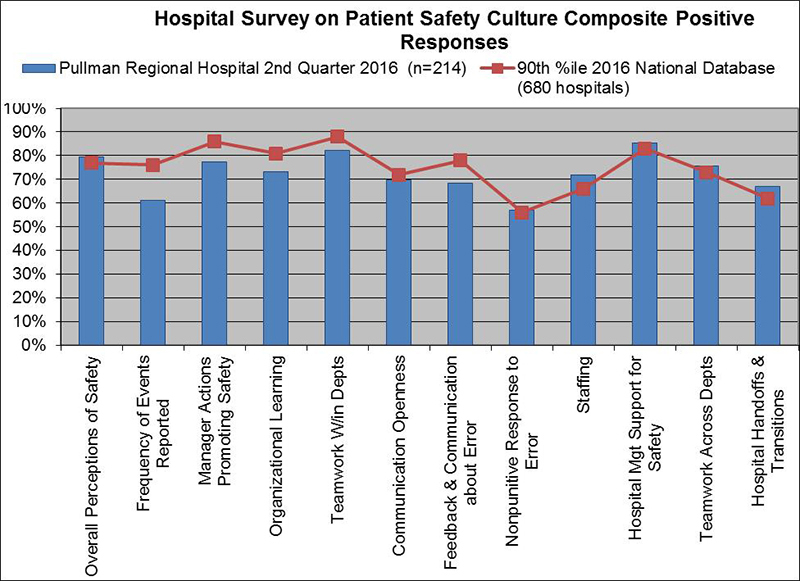 In six of the 12 categories, Pullman Regional Hospital's rankings met or exceeded the 90 th percentile of the national database, which includes 680 hospitals:
Overall perception of Safety
Nonpunitive response to error
Staffing
Hospital management support of patient safety
Teamwork across departments
Hospital Handoffs and transitions
The following are identified patient safety priorities for Pullman Regional Hospital:
After we make changes to improve patient safety, we evaluate their effectiveness.
We are given feedback about changes put in to place based on event reports.
We are informed about errors that happen in this department.
The Cost of Care
We are committed to transparency and that means hospital pricing information. With our easy to use, online Price Estimation Tool, you can get a rough idea of your out-of-pocket costs for many of our most common services. This can help you to plan before your treatment or procedure and concentrate on getting well.
You will need to have your health insurance policy information in order to receive an accurate estimate for our services. Following a series of questions, you will receive a price estimate that you can print and bring with you to the hospital.
Click here to view a list of patient price information.
Click here to visit the Charge Master (CDM) to view prices for procedures you may have at Pullman Regional Hospital.
Reimbursement Rates
The Center for Medicare & Medicaid and commercial insurance companies do not pay the hospital the charges we submit, but rather a predetermined amount based on the Diagnostic Related Group or DRG.
Typically, Medicaid reimbursement to Pullman Regional Hospital is approximately $0.52 cents on a charge of $1.00, and commercial insurance is approximately $0.70 cents.
The difference between our average price and what Medicare/Medicaid or commercial insurance pays Pullman Regional Hospital cannot be charged to the patient. Pullman Regional Hospital must "write-off" this amount. Over the last several years, Pullman Regional Hospital's average uncompensated care when taking into account changes in the coverage for Medicaid totaled nearly $9,000,000.
Patient Safety at Pullman Regional Hospital
Pullman Regional Hospital continues a strong commitment to provide the highest level of safety for patients. We apply the Institute of Medicine's patient safety recommendations, the National Patient Safety Goals, our Philosophy of Care, technological advances, and current "best practices" to improve our patient care processes. Two significant areas of patient safety are medication administration and infection prevention. While Pullman Regional Hospital does a tremendous job of preventing errors, our ultimate focus is to eliminate both hospital acquired infections and medication errors.
Infection Prevention
Pullman Regional Hospital is committed to reducing and eliminating infections acquired during hospitalization and is well below the national average.
Hospital Acquired Infections: The graph paints the clear picture of the success of Pullman Regional Hospital to protect our patients from hospital acquired infections, including surgical site infection. Our rates have been consistently below half of the national average and our trend line continues towards the elimination of hospital acquired infections. Good hand hygiene has proven to be the number one best defense against hospital acquired infections and Pullman Regional continues to exceed the goals for good hand hygiene as reported to the Washington State Hospital Association.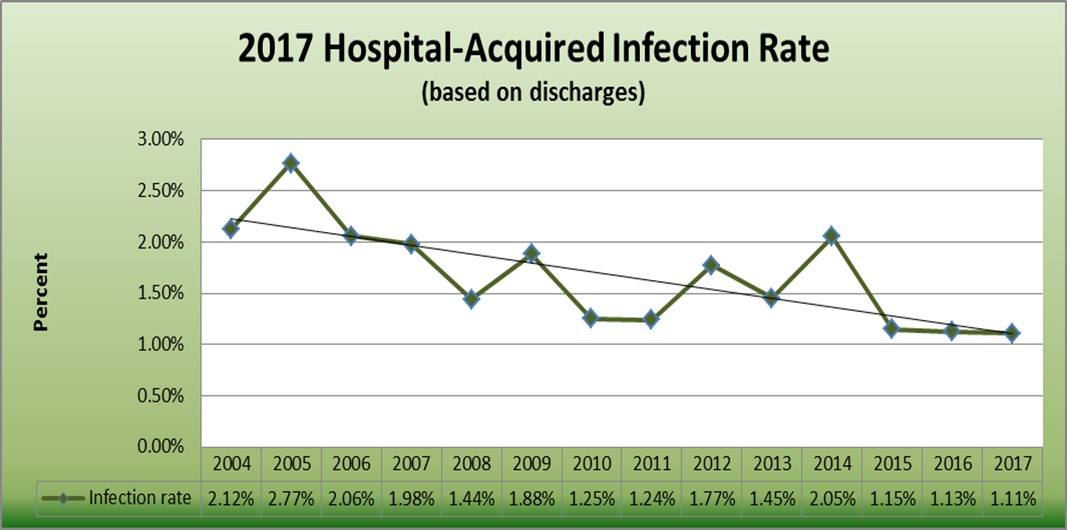 Surgical site infections: Our downward trend on surgical site infection rates can be attributed to our relentless focus on preparation processes, antibiotic utilization and patient education prior to discharge. To see a comparison of Pullman Regional Hospital's infection rates with others hospitals in Washington state, please go to http://www.wahospitalquality.org/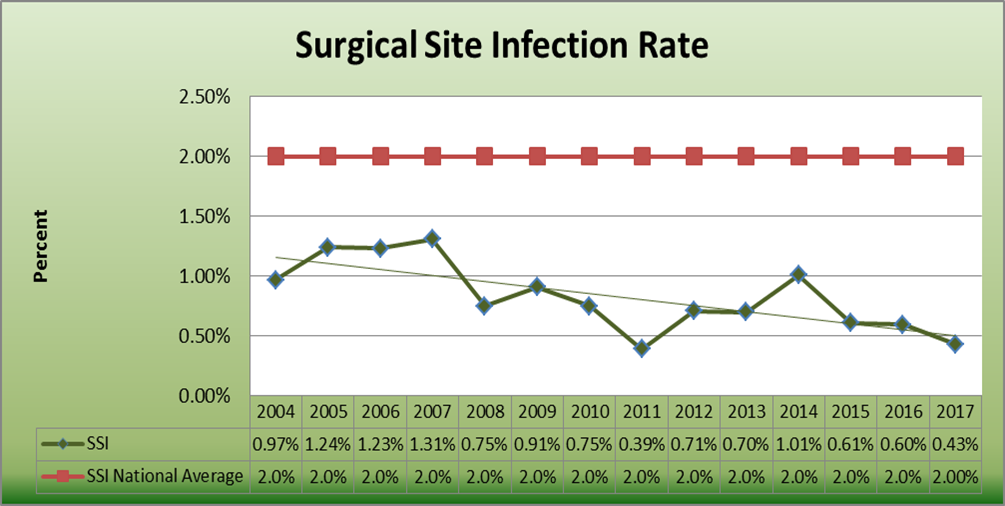 Influenza Prevention Program: In a continuing effort to increase the rate of voluntary employee participation, a minimum goal of 90% was established by the Board of Commissioners.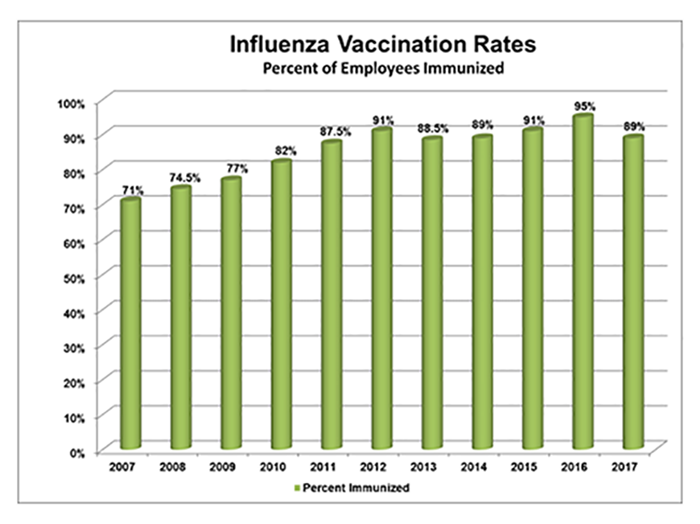 Medication Safety
Medication administration is one of the most important and complex systems in hospitals. Pullman Regional takes medication safety very seriously and is dedicated to utilizing technology to reduce human error. Automated medication dispensing machines reduce the opportunity of choosing the wrong medication. Bar-code scanning is used to assure the right medication and dosage are administered to the right patient at the right time. This technology uses other important information in the electronic medical record to prevent medication errors from occurring.
Patient Satisfaction at Pullman Regional Hospital
Pullman Regional Hospital is a 5 star hospital as ranked by HCAHPS patient satisfaction measures (Centers for Medicare & Medicaid). We are consistently recognized at a state and national level for high patient satisfaction ratings. Our high quality of care and high satisfaction by our medical and hospital staff members contribute to overall satisfaction by our patients.
Pullman Regional Hospital is consistently ranked among the top one or two hospitals in Washington state in patient satisfaction (Hospital Consumer Assessment of Healthcare Providers and Systems). For information on Pullman Regional Hospital's HCAHPS scores and how the hospital compares to other hospitals in Washington state go to www.wahospitalquality.org . Click on "Compare Health Data."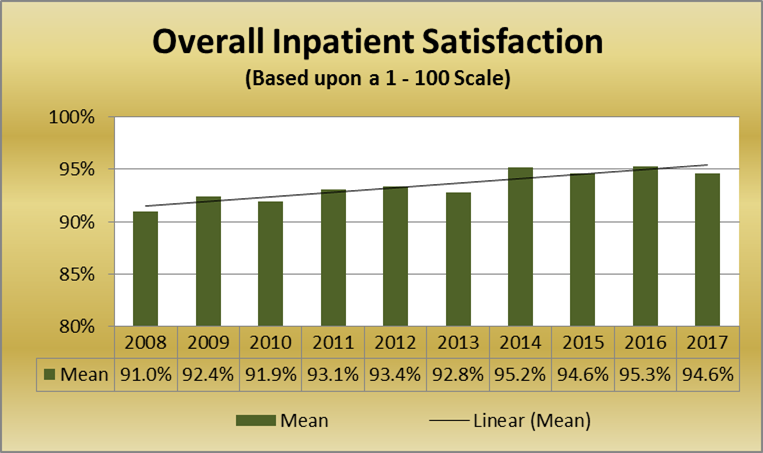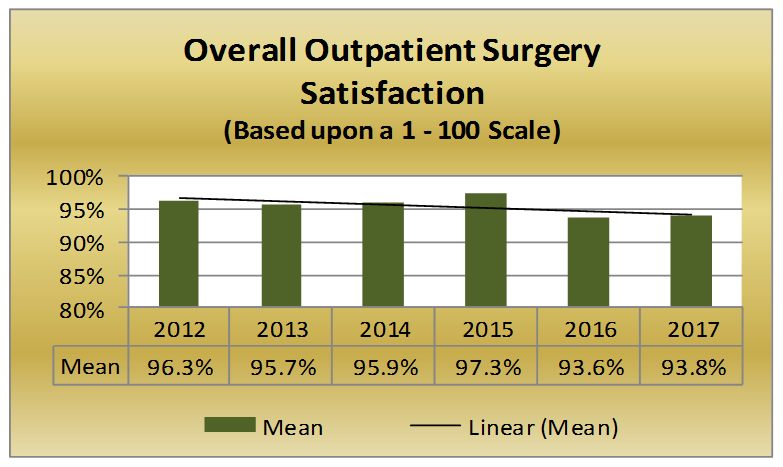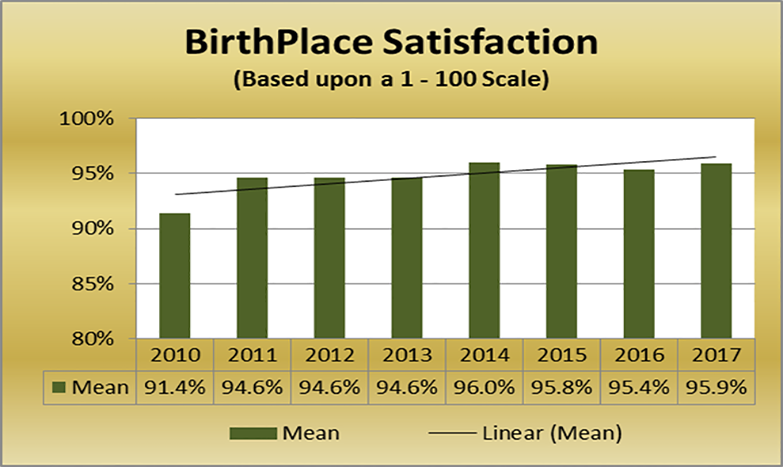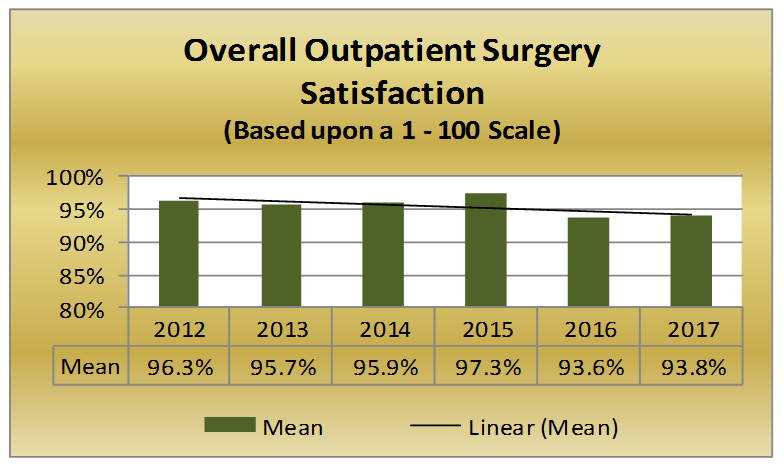 Employee Recruitment and Retention
Pullman Regional Hospital continues to have a downward trend in staff turnover—a strong marker for employee satisfaction. The hospital has implemented many new processes to select and retain employees that are a cultural fit with Pullman Regional Hospital: an online application process, "Hiring for Fit" candidate interview process, and our new employee orientation focusing on the culture and philosophy along with the regulatory requirements of employment.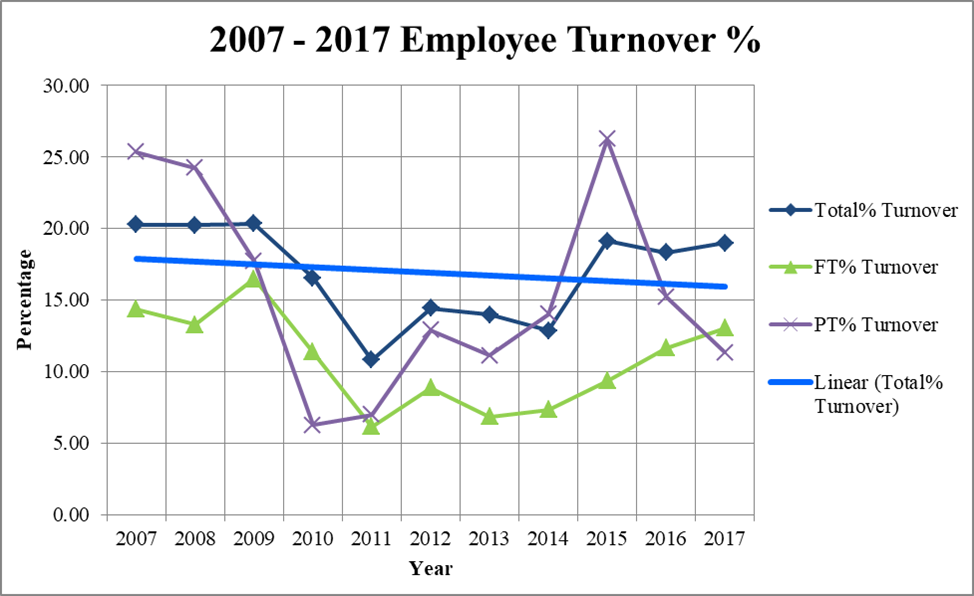 Our commitment to transparency & safety
Your hospital is dedicated to monitoring the safety of its patients and staff and the care provided. Since 2005, Pullman Regional Hospital has implemented an internal monitoring process aimed at ensuring ongoing quality and safety of care. An administrative team is on call to provide staff support and be alerted to any unexpected event occurring at the hospital. As part of Pullman Regional Hospital's policy on Organizational Transparency and Disclosure, an unexpected event is defined as any occurrence which:
Is defined by law as a sentinel event, and/or
Uncharacteristically utilizes resources (staff, supplies, equipment, etc.), and/or
Involves significant additional staff, and/or
Involves multiple outside agencies/groups, and/or
Has a significant emotional impact on the patient, family, or staff, and/or
Is a medical error resulting in temporary or greater harm