Quick Links:
Thank you to everyone who voted on Pullman Regional Hospital's Proposition 1. The vote was incredibly close and very nearly met the 60 percent majority vote needed. It was an affirmation that the community supports Pullman Regional Hospital. Our needs remain the same and we will continue to work to meet them – through an internal focus on creating greater efficiencies and through ongoing support from the community. Thank you again for your support and look forward to continuing communications as we move in to the Next Era of Excellence.
Join our Community Conversations
The Pullman Regional Hospital Board of Commissioners is hosting a series of "Community Conversations" on the Next Era of Excellence as part of its regular monthly agendas on the first Wednesday of each month at 6:00 pm. The public is invited to attend - no RSVP is necessary.
The Next Era of Excellence in Healthcare
Pullman Regional Hospital is committed to providing excellence to our patients. We have been building on excellence for the last 25 years and are striving to move to The Next Era of Excellence to ensure convenience, access, and quality care to patients and the community. Growth and lack of space to house physicians is driving the need for an addition to the hospital. Furthermore, to achieve coordinated patient care, a community-wide electronic medical record is needed. This, along with ever changing dynamics in healthcare, keep the need for community support of Pullman Regional Hospital real today and tomorrow. We can achieve the Next Era of Excellence for generations to come with the help of the community we serve.
The Need for Additional Space on our Hospital Campus
Pullman is continuing to grow and so is the demand for healthcare services. One area of particular need for Pullman Regional Hospital is space to house physician specialists who we want to recruit to the area and a planned family medicine residency program to train the next generation of primary care physicians. Want to learn more about growth in Pullman? Download the Emsi Community Growth Report Executive Summary.
Bringing Specialty Medical Services to Pullman - Currently, we do not have space to house specialists like neurology and oncology, two services that are now located in Moscow due to our space constraints. There are many other specialists we want to bring to Pullman but the challenge remains the same -- lack of space.
Building a Pipeline of Family Medicine Physicians on the Palouse - We are also working on establishing a Family Medicine Residency program that needs space for residents, teaching physicians, and patient exam rooms for training, as required by the American College of Graduate Medicine Education (ACGME).
The Next Era of Excellence addresses the shortage of space Pullman Regional Hospital is experiencing by adding a proposed 45,000 square foot facility on the northwest section of the hospital, next to Palouse Medical.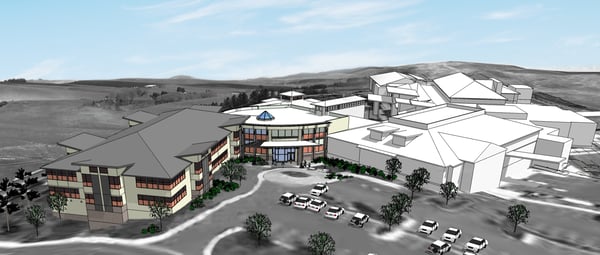 Proposed new services to be housed in the three story addition:
Potential Physician specialties to increase access include Family Medicine, Internal Medicine, Pediatrics, Cardiology, Gastroenterology, Psychiatry, General Surgery, OB/GYN, Ophthalmology, Otolaryngology, Allery, Dermatology, Physical Medicine, Rheumatology, Endocrinology, Nephrology
Family medicine residency program.
Center for Women's & Children's Health, including diagnostics, adult day health, drop-off childcare.
Care coordination.
Parking Plans:
We will increase parking availability from 527 parking stalls to 582 stalls. We recently designated staff parking to the southeast part of campus to free up spaces for patients. On average there are 97 vacant spaces every weekday, and valet service and shuttle service options are being considered to help with future parking frustration.
Here's what parking would look like with the addition:

A Community-Wide Electronic Medical Record System
Another key component of The Next Era of Excellence is connecting physician offices and hospitals across the state with a community wide electronic medical record. Pullman Regional Hospital has chosen the EPIC system for its medical record platform, which is used by more than 50 percent of the hospitals in Washington state. Our current system is outdated and not widely used. A community-wide electronic medical record is estimated to be $8 to $10 million. A big part of that cost includes converting medical offices to EPIC to achieve the connectivity that allows a patient's medical record to be accessed by providers and hospitals.. For the patient, this means no more filling out repetitive forms because your updated, comprehensive medical record can be accessed by the majority of providers in the area and throughout the state of Washington. It also means better, more coordinated care.
In a recent episode of The Pullman Civic Scoop Podcast, members of the Pullman Regional Hospital Board of Commissioners address topics such as the Community-Wide Electronic Medical Record and hospital addition. Click here to listen to the podcast.
Funding for the Next Era of Excellence
Pullman Regional Hospital's average yearly margin is between 1-2%, or $1.5 million. This margin is reinvested in staffing, technology, and facilities. However, it is not enough to ensure continued access to primary care and specialty medicine. The Next Era Of Excellence bond levy would provide the additional funds necessary. Our plan includes a $29 million community bond to be paid for by residents of the hospital district over 25 years and approximately $11 million through philanthropy and hospital funds. This partnership between Pullman Regional Hospital and the community will allow us to bring both the hospital's expertise and the community's capabilities together to create a new reality for healthcare on the Palouse. The proposed tax levy is estimated to be .99 cents per $1,000 of assessed property value of your home as a resident of the Pullman Regional Hospital district.
In a recent episode of The Pullman Civic Scoop Podcast, members of the Pullman Regional Hospital Board of Commissioners address topics such as hospital funding, property tax increases, and the hospital taxing district. Click here to listen to the podcast.
What this means on an annual basis: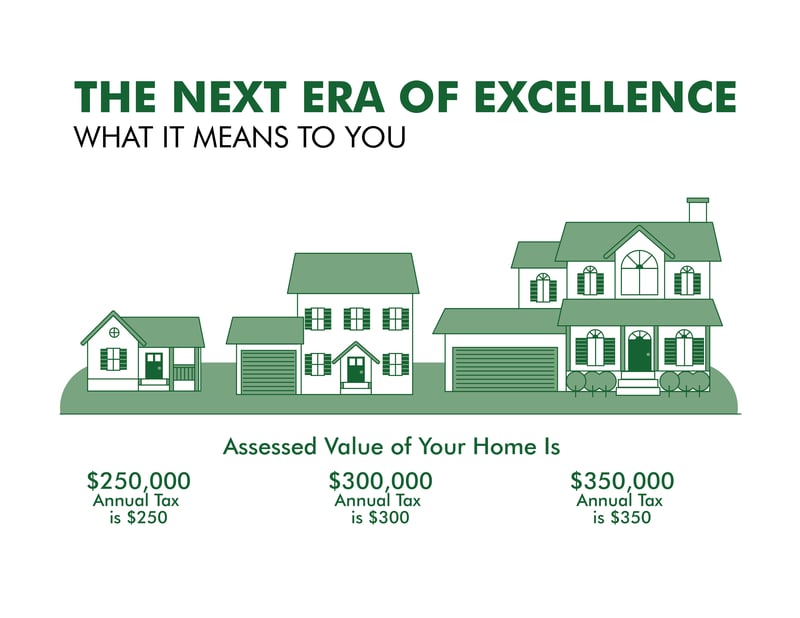 Assuring that Pullman Regional Hospital continues to thrive, will require the support of the community to bring us in to The Next Era of Excellence in which access to specialty care is located in Pullman, medical records are electronically connected, and we continue to provide 5-star quality care.