As part of The Next Era of Excellence, Pullman Regional Hospital Foundation is
State-of-the-art Medical Technology
At Pullman Regional Hospital, we value our exceptional physicians and care providers by
investing in state-of-the-art medical equipment to put the best tools in their hands. Providing leading edge technology for our surgeons is why Pullman Regional Hospital remains a cut above the rest with superior patient experiences and outcomes.
Da Vinci Robotic Assisted Surgery Equipment
Robotic assisted surgery with the da Vinci surgical system allows surgeons to perform complex minimally invasive surgery with precision and accuracy. This state-of-the-art equipment serves an important role in patient care and outcomes. Da Vinci surgeries cost less, have less blood loss, and allow for a quicker recovery with less pain and less scarring. New features and functionality have improved the Da Vinci, rendering old versions obsolete and creating a need to upgrade. Seven local surgeons are trained to use the Da Vinci at Pullman Regional Hospital--almost all hysterectomies on the Palouse are performed at Pullman Regional Hospital with da Vinci system and surgeons also choose Pullman Regional Hospital for urologic surgical procedures. We will provide $1 million in philanthropic support for the Da Vinci.
Orthopedic Surgical Equipment
Pullman Regional Hospital is committed to providing the most advanced tools and technology to enhance patient care and outcomes. The Smith and Nephew handheld robotic tool and navigation system creates a better custom fit for total knee procedures and an orthopedic C-Arm provides intensified real-time imaging for surgical procedures.
A Vision for a Family Medicine Residency Program in Pullman:
The opportunity to create a robust curriculum and train future physicians in leadership, business, and team-based care.
70% of medical school graduates in Washington will establish a medical practice in the state where they complete their undergraduate and graduate medical education.
Some studies have shown that more than half (56%) of family medicine residents stay within 100 miles of where they graduate from residency.
To date, there are 175 statewide residency and fellowship programs, yet only 13 are located in eastern Washington.
Our program is currently 1 of 3 in the nation working to establish a full residency program within a critical access hospital.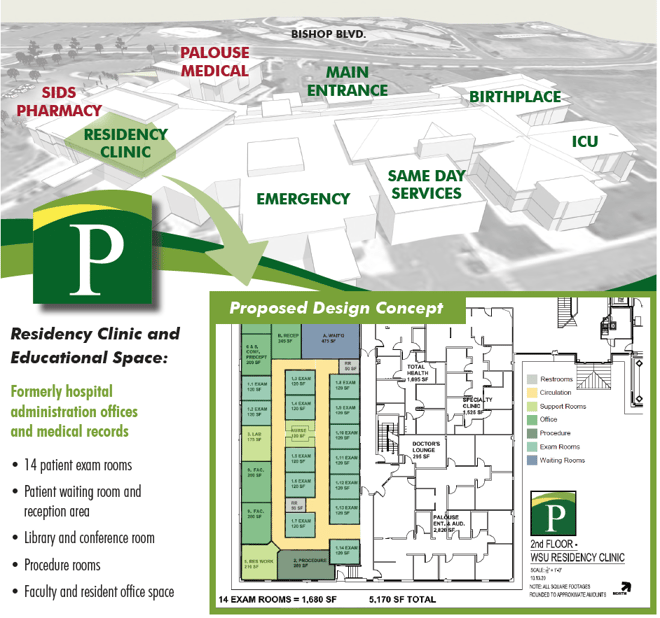 Family Medicine Residency Program
At the heart of healthcare are family medicine physicians. These doctors provide comprehensive health care through all stages of life, developing lasting, caring relationships with patients and their families.
There is a critical need for family medicine physicians nationwide. The state of Washington
is no exception. In rural areas, such as eastern Washington, it's one of the most difficult fields of
medicine to recruit and retain physicians.
Washington State University's Elson S. Floyd College of Medicine and Pullman Regional
Hospital are partnering to develop a solution by creating a Family Medicine Residency Program
based in Pullman, WA.
A residency program accreditation requirement, by the Accreditation Council for Graduate
Medical Education (ACGME), is dedicated clinical and educational space.
Pullman Regional Hospital is committing space within the hospital for the residency program.
Philanthropy is essential as we take the next step forward to ensure Pullman recruits, trains and is home to doctors of the highest caliber.
Electronic Medical Record
One patient. One record. Our hospital is investing in a community-wide electronic medical
record to provide patients one complete and up-to-date digital medical record. Upgrading to EPIC, the most used electronic medical record system in the United States and state of
Washington, can improve communication between care providers.
It could also reduce expensive repeat tests such as MRIs and blood draws, eliminate paper forms, and give patients immediate access to all of their medical information, all in one place.
Give today to ensure quality healthcare for your family and generations of families to come.
Contact the Pullman Regional Hospital Foundation to learn more at (509) 332-2046 or prhfoundation@pullmanregional.org or, make a gift online.