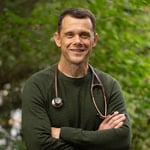 Dr. Adkins has been providing family medicine with obstetric care since 2004. He was chief resident in South Bend, Indiana and has additional training in Cesarean deliveries, colonoscopies, vasectomies, and skin surgery.
He was recognized as an outstanding upcoming family physician by the American Academy of Family Physicians.
He has a Master's Degree in Health Systems Administration from Indiana University, serves with the American Board of Family Medicine and is a Fellow of the American Academy of Family Physicians. He teaches medical students from the University of Washington.
Dr. Adkins enjoys teaching patients how to improve health through lifestyle so they can avoid seeing him in the office.